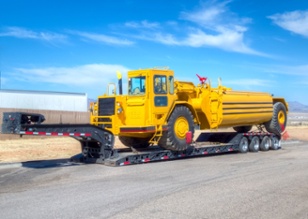 One of the most common questions we're asked is "How far will the AME team travel for a project?"
Even though the AME, Inc. offices are based in North and South Carolina, we work with many large corporations and Original Equipment Manufacturers (OEMs) that not only have locations in the Southeast, but throughout the entire United States, as well as Canada, Mexico and Europe. We even just completed overseeing a press install in China!
While it's easy to assume that partnering with an out-of-state industrial contractor would be more expensive, the AME team can travel to most areas in the U.S. and be less expensive than local options.
To help you determine if you should consider requesting a proposal from an out-of-state contractor for your plant and equipment relocation, this article outlines the frequently asked questions we receive about long-distance projects.
You May Also Enjoy: 4 Avoidable Mistakes That Derail Factory Relocation
How can AME travel to out-of-state worksites and still offer competitive pricing?
Businesses want to use a trusted rigging partner to execute their equipment installations and relocations, but it's also important they find an industrial contracting company that can complete the job on-time and within budget.
When comparing proposals, many have found that AME can be more competitive due to lower labor rates and cost of living and union and prevailing wage laws in the Southeast, which carry over to other regions. Even after adding hotel and per diem charges to our rates, the AME team can travel to most areas in the U.S. and be less expensive than local options.
Are all jobs a good fit for a traveling team?
The AME team is trained to handle anything related to plant machinery, equipment installations or relocations and have experience in an array of industries. To see the maximum benefits of the competitive bidding, most of our out-of-state jobs are for Capital Projects that have a budget between $100,000 to a million dollars.
Related: 10 Traits Every Industrial Relocation Contractor Should Have
How do I know your team has the proper skills to complete my project?
With a strong dedication to excellence and worksite safety, it's no mistake that the majority of our projects come from repeat customers and referrals. To ensure you're comfortable with our skillset, we can offer a variety of references from customers in a similar industry.
We're also often asked, "What do you specialize in?" Because of our location, we partner with a number of tire manufacturing facilities, but we're not specialized in any one area. Our team has a broad range of knowledge and skillsets, specifically in plant and equipment relocations, and we're happy to provide previous job specs and information.
Requesting a Proposal
It is our intention to bring innovative solutions to complex problems with our commitment to safety, cost, effective plans and trained, certified professionals. From machinery moving to plant relocations to equipment installations, the AME team is ready to help you each step of the way. Just give us a call or request a quote to get started with our construction experts.