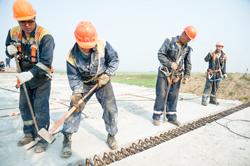 When a project requires industrial concrete that meets specific measurements, AME uses a Precision Concrete technique that includes preparing, forming, pouring and finishing surfaces for maximum efficiency and effectiveness.
But what is Precision Concrete? Does every project require this procedure? In this article, we'll answer the most frequently asked questions we receive regarding Precision Concrete and how this process is revolutionizing the way industrial concrete is poured.
What Is Precision Concrete?
Precision Concrete involves tediously creating a layout and plan for projects that require industrial concrete foundations with rigorous specifications. For example, AME often builds foundations for mechanical equipment that have anywhere from 100-200 anchor bolts or grout cans embedded into the framework. Once the concrete has been poured, it's not possible to move them. The planning process for Precision Concrete ensures the elevations are where they need to be, walls stay where they were built and embeds remain in place during the concrete pour and drying process.
What Type of Projects Require Precision Concrete?
Precision Concrete projects can range from machine tool foundations to warehouse floors that have stringent flatness requirements.
You Might Also Enjoy: Manufacturing Equipment: 3 Factors for Solid Foundation Installation
How Does AME Design a Precision Concrete Plan?
While some companies try to hang their embeds for a concrete pour, we've found that the most effective technique is to build a frame from below and have everything welded into place before pouring the concrete. In our experience, when large amounts of concrete are being poured, there's a lot of weight that starts to push everything around. When you're hanging the embeds from above, you're relinquishing control over where they'll move to.

What's the Process for a Precision Concrete Project?
Some clients have a rough design from the machine tool manufacturer or an on-staff engineer and just need help installing the foundation. Most frequently, AME completes a design-build scenario where our structural engineer takes the rough drawings, completes soil testing and designs a foundation from start to finish and installs the foundation in the plant.
Related: The 7 Habits of Highly Productive Mechanical Equipment Installers
Are there Any Requirements for Precision Concrete Projects?
All designs must be reviewed and stamped by a structural engineer before we'll install a foundation, even if the drawing is supplied by the machine tool manufacturer.
Choosing the Best Industrial Contractor for Precision Concrete
It's essential to work with an industrial contractor with a team that can serve all of your Precision Concrete needs – from production to installation. They should also have experience in completing a project a similarly-sized project and a track record of on-budget and on-time delivery without sacrificing quality.
Have another question? Ask us in the following comment section, or complete our Contact Us form!